---
AuldWorks Transfer Service
MP3 samples

This page contains excerpts, in the form of downloadable MP3 files, demonstrating the sound of different transfer techniques for LP and 78 rpm disks.





With this first sample, the Lp source was sent directly to a CD recorder with no further processing. In this case, none was needed, as the source was an audiophile-quality LP from 1979, "Horn of Plenty". This is an example of just how good a properly reproduced LP can sound, as is.



Download: In A Sentimental Mood.mp3
This is a 1.1 MB stereo file.
---
A noisy LP, transferred in
different ways:
This excerpt from Debussy's "Iberia" sounds surprisingly good when you consider that the LP dates from about 1950--but there is very noticeable surface crackle in the first sample, done without noise reduction.
Download: iberia1.mp3 no noise reduction
This is a 756 KB mono file.
The next sample is the same excerpt after a single pass of de-clicking. An occasional click or pop may get through, but overall it is quite an improvement.
Download: iberia2.mp3 de-click only
This is a 704 Kb mono file.
The final sample of "Iberia" is a full restoration. The difference compared to the previous sample is subtle--all tics and pops are gone and the noise floor is a little lower.
A great deal depends on the condition of the original record; it is not always possible to do this well.
Download: iberia3.mp3 full noise reduction
This is a 712 Kb mono file.
---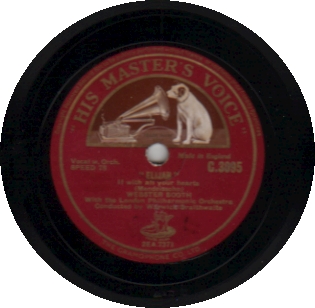 Mendelssohn on a 78 rpm disk:
These samples are from a British 78 from the 1930's. Webster Booth (tenor) is accompanied by the London Philharmonic Orchestra, directed by Warwick Braithwaite, in "If with all your hearts" from Mendelssohn's oratorio, Elijah.
The first sample is the record as is, played back accurately but without any noise reduction. This is a good sounding recording for its time, but as usual, the shellac 78 RPM disc has a lot of surface noise.
Download: Elijah1.mp3 no noise reduction
This is a 784 KB mono file.
The next sample is the same excerpt after a thorough noise reduction treatment.
Download: Elijah2.mp3 noise reduced version
This is a 776 KB mono file.
The final sample is the complete recording of the aria, with noise reduction the same as in the previous sample. At about 3 MB, this file is rather large for downloading via dialup, but those with a broadband web connection will have the opportunity to hear all of this example of the classic english oratorio style, performed by a singer who really knew his craft.
Download: Elijah3.mp3 the complete recording
Contact Robert Auld
This page copyright 2008, Robert Auld